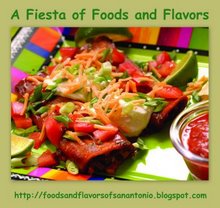 Gloria Chadwick is hosting a Fiesta of Foods and Flavors foodie blog event this month to celebrate the publishing of her new book, Foods and Flavors of San Antonio
and foodies are all invited to the party to share their Tex-Mex food.
Well, I really wanted to go to the party and although I never made any Tex-Mex food I thought I would give chili a try. Most of the time I cook Italian and I tried my best not give the chili an Italian twist.
One of my daughters does not eat beef so I decided to make a Vegetarian Chickpea Chili with a meat substitute, Veggie Ground Round which is actually a soya protein product. I have used it as a meat substitute in meat sauce and the whole family had liked it. I had bought some cans of rainbow colored chickpeas awhile ago and this would be the perfect time to use them.
The Vegetarian Chickpea chili turned out delicious. My family loved it! I served it with white rice and a salad. I am definitely going to add this dish to our weekly suppers and my daughters can also bring the leftovers (if any) for school lunches.
The Foods and Flavors of San Antonio is a cookbook with delicious Tex-Mex recipes. I will be writing a review of this book in the near future.
Vegetarian Chickpea Chili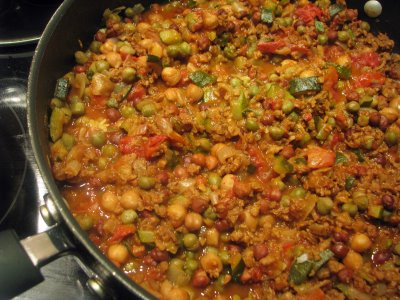 Makes 6-8 servings.
Ingredients:
3 tbsp olive oil
1 large onion, chopped
2 medium sized zucchini, chopped
2 19 fl. oz. cans chickpeas (I used the rainbow coloured chickpeas)
1 14 fl. oz. can chopped tomatoes
1 340 gr. (12 oz.) Veggie Round Ground (optional)
1/2 tsp crushed cayenne pepper
1 tsp. cumin
1 tbsp chili powder
2 cups cooked rice
Method:
Heat olive oil in large skillet over med-high heat until.
Add chopped onions and zucchini and cook for 2-3 minutes.
Drain beans and add to skillet.
Mix well with onion and zucchini.
Add can of chopped tomatoes and mix well.
Let simmer for 15 minutes.
Add the Veggie Round Ground if using.
Add crushed cayenne pepper, cumin, chili powder and salt.
Mix well and simmer for another 10-15 minutes for flavours can blend.
Serve with rice.