I am delighted to host the guest post below written by Rose Reisman, cookbook author. Thai Butternut Squash and Coconut Soup is one of the delicious recipes featured in her latest cookbook, "Rose Reisman's Family Favorites".
Winter squash is a fall favourite. It is nutrient rich containing an excellent source of beta-carotene which serves as an excellent antioxidant and may reduce some diseases and fight aging signs. It also contains a great source of potassium, which helps lower blood pressure, reduces risk of heart disease and stroke and is good for our kidneys, muscles and digestive system. Winter squash has a sweet, nutty flavour, which works really well in this Thai soup. Combining the flavour of coconut milk and spices, it serves a great appetizer but can almost fill you up just as a main course would with its rich taste and flavour.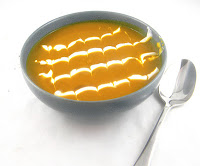 Thai Butternut Squash and Coconut Soup Recipe
The light coconut milk makes this soup healthy yet still creamy. Regular coconut milk is what's typically used in Thai restaurants and has three times the fat and calories. Fish sauce is located in the Asian section of your supermarket or specialty store. If you can't find it, feel free to substitute with soy sauce, but double the amount.
2 tsp vegetable oil

2 tsp finely chopped garlic

1 tsp finely chopped ginger

6 cups cubed butternut squash (about 1 3/4 lb)

1 1/2 tsp hot chili sauce

1/4 cup chopped fresh

cilantro

or basil
1. Lightly coat a large, nonstick pot with cooking spray. Add the oil and set over medium heat.
Sauté
the onion, garlic and ginger for 5 minutes or until the onions are just softened.
2. Add the squash, stock, chili sauce, fish sauce and salt. Bring to a boil, then reduce the heat to low. Cover and simmer for about 20 minutes or until the squash is tender.
3.
Purée
the soup in a blender or food processor in batches. Return the soup to the saucepan and add the coconut milk and honey. Heat through. Serve the soup in bowls, and garnish with
cilantro
or basil.
per serving
Calories 120 • Protein 3 g • Carbohydrates 18 g • Fiber 3.9 g • Total fat 5.2 g • Saturated fat 0.2 g • Cholesterol 0 mg • Sodium 480 mg
• prep time 10 minutes
"Rose Reisman's Family Favorites" cookbook can be purchased at local bookstores or online retail booksellers.
Visit Rose Reisman's website,
The Art of Living Well
, for more information on Rose Reisman's cookbooks and recipes.
Rose Reisman is the spokeperson for
Breakfast for Learning
, an organization dedicated to child nutrition programs in Canada.