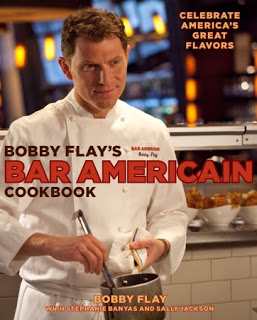 Bobby Flay's Bar Americain cookbook displays his passion for cooking in over 110 delicious recipes which reflect his Bar Americain restaurants' flair for French bistro cuisine.
Recipes for cocktails, soups and salads, sandwiches, appetizers, fish and shellfish, poultry and meat, sides, breads and desserts, and brunch are well organized

 

easy to follow and accompanied by colour photographs.
A sampling of the recipes include Sangrita, Green Chile

 

Cheeseburger, Red Pepper Crab Cakes, Crispy Soft Shell Crabs, Country-style Ribs, Black Pepper Buttermilk Biscuits, Blueberry Lemon Crepes,

 

and Bar Americain Barbeque Sauce.
The Kitchen Essentials chapter is full of useful information for stocking

 

the

 

American pantry, equipment essentials,

 

and

 

cooking techniques.

  
Holiday Cookbook Giveaway
Bobby Flay's Bar Americain cookbook published by Random House is the first of cookbook giveays to follow in December 2011 and December 2012.
For a chance to add this cookbook to your cookbook collection and try out delicious and flavourable recipes, just leave a comment on  Cookbook Addiction's Facebook page and below.
The winner will be  posted on December 22nd.  Good luck!!
Bobby Flay's Bar Americain Cookbook
by Bobby Flay with Stephanie Banyas and Sally Jackson Copyright © 2011 by Boy Meets Grill, Inc. Photographs Copyright © 2011 by Ben Fink. Excerpted by permission of Clarkson Potter, a division of Random House of Canada Limited. All rights reserved.