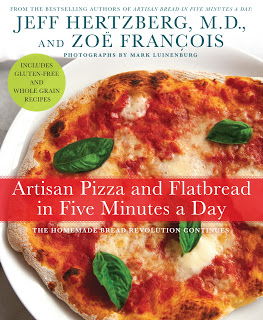 The Artisan Pizza and Flatbread in Five Minutes a Day by Jeff Hertzberg, M.D., and Zoë François is the cookbook to own for pizza and bread lovers.  It takes only five minutes to prepare the  no-knead doughs for pizza crusts, sweet and savory tarts and flatbreads.  Recipes using gluten-free, whole wheat and spelt are also included. 

Find Barnes and Noble promotional codes for Artisan Pizza and Flatbread in Five Minutes a Day and save money.
Some of the over 100 recipes include:  Pizza Margherita, Thick-Crusted Roman Eggplant Pizza, Fougasse, Pita, and Naan, Skillet Peach Pie, Blueberry Galettes, and Blush Apple Tart. The book also includes recipes for salads, soups, and spreads.  Making yeast dough could not get any easier!
In the kitchen making pizza….
Thick-Crusted Sicilian-Style Pizza with Onions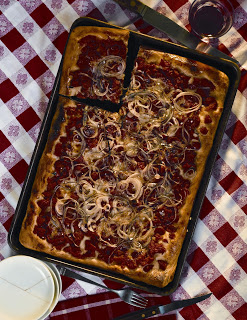 This pizza looks was so appetizing, I just had to make it – twice!
I chose to use the Master Recipe (page 59) to make the crust and topped it  with mozzarella, tomatoes, onions , a drizzle of olive oil and sprinkle of salt.  Anchovies are an option but I also added them to the pizza.  My family loved the taste of the combined flavours on a slightly thicker dough. 
Classic Pizza Margherita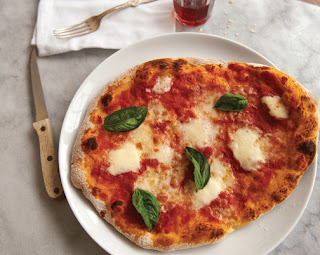 I used the Master Recipe to make this delicious classic pizza.  The Master Dough recipe makes enough dough for 2-4 pizzas, depending how large you make the pizzas. 
I topped the pizza dough with fresh tomatoes and chunks of fresh mozzarella and a drizzle of olive oil.  Then it was baked it on a preheated pizza stone which resulted in a crispy, thin crust.  Fresh basil was added, the pizza cooled slightly and then we devoured it!  It tasted so good! 
Pizza throwing with Jeff Hertzberg video
Permission to print photos granted by St. Martin's PressArtisan Pizza and Flatbread in Five Minutes a DayAuthors: Jeff Hertzberg and Zoë FrançoisPublisher: St. Martin's PressISBN: 978-0-312-64944-4
Photography: Mark LuinenburgPrice: $27.99 US/$31.99 CAN
To win a copy of this must-have
Artisan Pizza and Flatbreads in Five Minutes a Day
cookbook, 'Like' 
My Cookbook Addiction Facebook
page
and
leave a comment below.
A comment will be randomly chosen and the winner's name will be  posted on January 6th, 2012.
Good luck and Happy New Year to all!