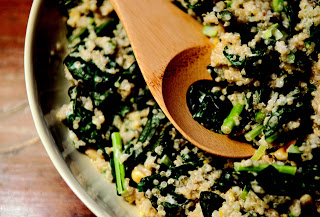 This nutritional and delicious recipe is from the Food52 cookbook by Amanda Hesser, Merrill Stubbs, and the Food52 community.  Inspired by the popular Food522 website, the Food52 cookbook features 140 winning recipes from exceptional home cooks.
About the recipes
The recipes are divided into seasonal chapters and are accompanied by colour photos.  Also included with each recipe are comments from Amanda and Merill and the Food52 community, cooking tips and techniques, and an 'All About the Cook' section.
Some of the recipes featured are Summer Corn Chowder, Grilled Lamb Chops and Green Salad, Zucchini Pancakes (shown on front cover), Eggplant Parmesan, Pudding Chômer, and Luciana's Porchetta.
Also included is a chapter listing the name of all the contributors as well as a Menus chapter listing the menus by season.
Cooking in the kitchen
One Pot Kale and Quiona Pilaf recipe calls for few ingredients and is easily prepared with the benefit of providing great nutritional value.
The flavours of the kale and quinoa meld together with lemon-oil dressing and fresh goat cheese while the pine nuts add the crunch to produce a well balanced savory taste!  I also made it replacing the kale with Swiss chard with great results.  This is definitely a dish I will be making often.
One-Pot Kale and Quinoa Pilaf Recipe by Deensiebat
SERVES 2 TO 4
A and M:  Deensiebat's pilaf breathes new life into a familiar classic. The quinoa and hearty strips of lacinato kale (you can use chard or standard kale) crunch lightly between your teeth, and Meyer lemon juice and zest keep blandness at bay. Fresh goat cheese and walnut oil just barely coat the warm pilaf, giving it a creamy, tangy finish, and toasted pine nuts lend some crunch. We love the technique of layering the quinoa and the kale. Deensiebat said, "It's one-pot easy, making it a simple way to incorporate healthy eating into a work night rotation.
Ingredients:
1 cup quinoa

1 bunch lacinato (or regular) kale, washed and chopped into 1-inch lengths

1 Meyer lemon, zested and juiced

2 scallions, minced

1 tablespoon toasted walnut oil (or olive oil)

3 tablespoons toasted pine nuts

1/4 cup crumbled soft goat cheese

Salt and freshly ground black pepper
Method:
Bring 2 cups salted water to a boil over high heat in a large pot with a cover. Add the quinoa cover, and lower the heat until it is just high enough to maintain a simmer.Cook for 10 minutes, then top the quinoa with the kale and re-cover.Simmer another 5 minutes, then turn off the heat and allow the quinoa and kale to steam for 5 more minutes.
While quinoa is cooking, take a large serving bowl and combine the lemon zest, half the lemon juice, the scallions, walnut oil, pine nuts, and goat cheese.
Check the quinoa and kale – the water should have absorbed, and the quinoa will be tender but firm, and the kale tender and bright green. If the quinoa still has a hard white center, you can steam it a bit longer, adding more water if needed.
When the quinoa and kale are done, fluff the pilaf and tip it into the waiting bowl with the remaining ingredients. As the hot quinoa hits the scallions and lemon, it should smell lovely. Toss to combine, seasoning with salt and pepper and the remaining lemon juice if needed.
Cookbook Giveaway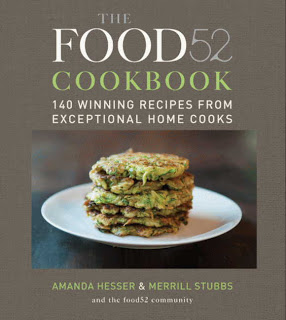 This is definitely a cookbook that you will want to add to your cookbook collection and will refer to time and time again to make delicious recipes for your family.
For a chance to win this cookbook, just leave a comment on this blog AND on My Cookbook Addiction Facebook page.
The winner`s name will be announced on Friday, January 19th.  Good luck everyone!
The Food52 Cookbook. Copyright © 2011 by Food52, Inc. Recipe and photos excerpted by permission of Willian Morrow, of Random House Limited. All rights reserved.