The featured recipe for this Tuesday's
TWD: Baking with Julia
was Pizza Rustica hosted by
Emily of Capitol Region Dining and Raelynn of the Place They Call Home.The Pizza Rustica is made with a sweet crust and a three-cheese savory cheese filling with the addition of prosciutto.
This recipe was easy and quick to prepare.  I did however substitute ham for the prosciutto and Parmigiano for the Pecorino cheese.  The filling can also be used as a base for adding vegetables and any other preferred additions. The baking time was for 30-35 minutes but I increased it by 20 minutes as the center was not set set.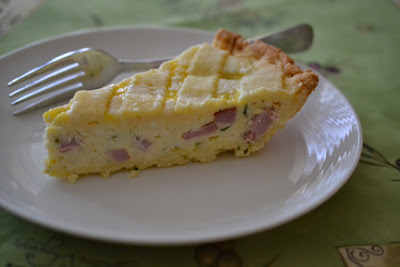 I tasted it while it was still warm and loved the hearty taste of the sweet crust and savory filling, although I prefer it at room temperature. It made a delicious supper accompanied by roasted vegetables.
Thanks to both Emily and Raelynn for hosting this Tuesday's event.  Visit  Capitol Region Dining and The Place They Call Home for the Pizza Rustica recipe.