The
Grace's Sweet Life: Homemade Italian Desserts from Cannoli, Tiramisu, and Panna Cotta to Torte, Pizzelle, and Struffoli
  cookbook by Grace Massa Langlois is a treasure of Italian homemade desserts for both the experienced and novice baker.
Grace was born in Canada and grew up in a home deep rooted in the Italian culture and traditions   where she learned how to cook and bake from her mother. She was encouraged by her children to share her passion of food and is now the author of the blog,
La Mia Vita Dolce/My Sweet Life
.
The `Basics` chapter at the beginning of the cookbook lists basic recipes such as Pastry Cream, Italian Meringue, Chantilly Cream, Ricotta Cream, Egg Foam Base for Semifreddo and Mousse, and Hazelnut Praline.
There are  two recipes for Pasta Frolla (sweet pastry dough); one is made with butter and the other is made with vegetable oil.  Also included are also notes on measurements of ingredients and on special ingredients such as  Lievito Vaniglinato (which is referred to yeast for cake) that are used in the cookbook.Though some recipes may appear to be challenging, they are easy to follow with well written step-by-step instructions accompanied by beautiful color photos.
Some featured cake and cheese cake recipes are Torta all`Arancia, Abruzzo Sweet Cheesecake, Tortal Paradiso, and a luscious Seven-Layer Cake while spectacular mini dessert recipes include Mini Chocolate and Vanilla Bavarian Cakes, Pear and Chocolate Cake, and Mini Lemon Mousse Cakes with Limoncello-Lemon Jelly.
In the cookies and confections section, there are recipes for Italian Peach Cookies, Soft Amaretti Cookies and more delectable recipes. For pies and tarts, you can choose to make a Strawberry Tart with Lightened Pastry Cream or Chocolate, Caramel and Hazelnut Tartlets, to name a few.
You will find a recipe for the famous Sicilian Cannoli as well as recipes for Italian Cream Filled Doughnuts and Chocolate Croissants the pastries and fried desserts section.
There is a chapter dedicated to creams, custards, mousses and souffles such as Panna Cotta with Raspberry Jelly and Profiteroles with Chantilly Cream.
For those hot summer days, Strawberry, Vanilla and Chocolate Semifreddo or Lemon or Orange Sorbet would certainly make a refreshing dessert.
In the kitchen baking…..
 
Soft Amaretti Cookies (Amaretti Morbidi) 
Family members always would bring trays of these cookies to add to the dessert table during the holidays or special occasions.  This recipe brings back childhood memories of grabbin  a few cookies off the trays when no one was looking because I couldn't wait until dessert time to eat them.  They were so good !
This recipe is easy to make using only a few ingredients.  I followed the instructions to the letter and as a result my cookies turned soft and chewy with a wonderful almond flavour.
The amaretti didn't last long in my household and I had requests to bake many more batches.  The recipe for the Soft Amaretti Cookies can be found on the La Mia Vita Dolce/My Sweet Life website.
Torta all'Arancia (Orange Cake)
This cake is moist and delicious with a burst of orange flavour has also become a family favourite. It is the perfect cake to serve with coffee or at any time.  You really just can't have only one slice.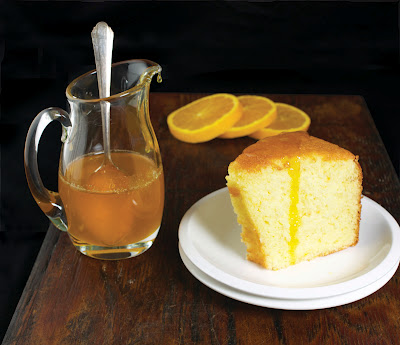 Makes 1 (10-inch) cake
Ingredients:
Uno – Cake
6 large eggs
2 cups (250 g) all-purpose flour
4 teaspoons baking powder
½ teaspoon salt
½ cup (120 ml) vegetable oil
1 teaspoon pure vanilla extract
1 cup plus 2 tablespoons (255 g) superfine sugar, divided
grated zest of 2 oranges
1 cup (240 ml) freshly squeezed orange juice
¼ teaspoon cream of tartar
Due – Syrup
1½ cups (355 ml) freshly squeezed orange juice
½ cup (113 g) superfine sugar
zest of 1 orange in large strips (make sure no pith is attached)
½ vanilla bean, split and seeded
2 to 3 tablespoons Cointreau or other orange liqueur
 Directions:
Uno – To make the cake
Separate the cold eggs. Place the yolks in a large bowl and the whites in a stand mixer. Cover each bowl with plastic wrap and allow the eggs to come to room temperature, about 30 minutes.
Preheat the oven to 350°F (180°C). Very lightly coat with butter the bottom and sides of a 10-inch tube pan with feet and removable bottom. .
Using a fine-mesh sieve, sift together the flour, baking powder, and salt into a medium bowl. Whisk to combine well.
Use a handheld mixer to beat the egg yolks, oil, vanilla, and 1 cup (225 g) sugar on medium speed until light and fluffy, about 2 minutes.
Beat in the orange zest and juice.
Reduce the mixer speed to low and gradually add the flour mixture, beating to just combine (do not over mix).
In a stand mixer fitted with the whip attachment, beat the egg whites to stiff peaks, beginning at low speed and gradually increasing to medium-high. When the whites are foamy, add the cream of tartar. At the soft-peak stage, add the remaining 2 tablespoons (30 g) sugar.
Using a large flexible spatula, fold one-third of the egg whites into the egg yolk mixture to lighten the batter, then carefully fold in the remaining egg whites until just combines.
Pour the batter into the prepared pan, spreading it evenly with an offset spatula.
Bake until golden and a cake tester inserted into the center comes out clean, 50 to 60 minutes.
 Remove from the oven and immediately invert the pan onto a wire rack. Let the cake cool completely in the pan upside down on the rack.
While the cake bakes, prepare the orange syrup.
Due – To make the syrup
In a small saucepan over medium heat, bring the orange juice, sugar, orange zest, and the vanilla bean and seeds to a simmer, stirring until the sugar dissolves, about 5 minutes.
Reduce the heat to low, add the liqueur, and continue to simmer until the syrup reduces and thickens slightly about 5 minutes.
Remove from the heat and strain the syrup through a fine-mesh sieve into a pourable container. Allow the syrup to cool slightly.
Tre – To assemble and serve
Flip the cake pan over, carefully run a thin knife around the edges of the pan, and turn the cake out onto a serving plate or cake stand.
To serve, place the cake on dessert plates and serve with warm orange syrup.
If you love Italian desserts, Grace's Sweet Life: Homemade Italian Desserts from Cannoli, Tiramisu, and Panna Cotta to Torte, Pizzelle, and Struffoli
  should be part of your cookbook collection. They are authentic and delicious.  I am looking forward to making the many recipes I have bookmarked in this cookbook.
Copyright text © 2012 by Grace Massa Langlois.. Photographs Copyright © 2012 by Liana Massa. Recipe and photos included by permission of © 2012 Ulysses Press.
Disclosure

Ulysses Press sent me a copy of the cookbook to review..