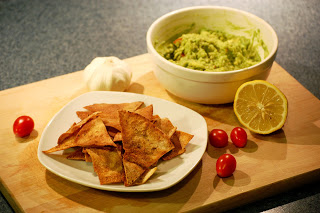 I have a slight snacking addiction. If someone drops a bowl of trail mix in front of me, you better believe I'm trying it! It's a weakness, really. I just love to snack.
As humans, we are social eaters by nature. We eat when we're happy, we eat when we're bored and we eat when we are in groups – But if we can pick the right snacks to put on the table in the first place, snacking doesn't have to be such a bad thing.
Canada Day weekend was no exception to this. I had to work on Saturday at 8:30a.m, so on Friday the hus and I just curled up with a movie. The perfect excuse to break out my homemade pita chip recipe, while he tag-teamed and made some AMAZING guacamole!
Guacamole & Pita Chips
Ingredients
Guacamole
2 ripe avocados
4 cherry tomatoes
2 cloves of garlic
Juice of ¼ lemon
1 Jalapeno pepper (optional)
Black pepper
Pita Chips
1-2 pita breads, depending on how much you'd like to make. (1 was enough for the two of us!)
Olive oil
Any spices you'd like. (We used oregano and garlic powder)
Instructions
Guacamole
Take avocados, cut them in half all the way around the pit, and twist. The pit should pop right out, and then you can scoop the "guts" out. We usually slice ours and then just squeeze the filling out, as it makes it easier to mash it all up later.
Chop up cherry tomatoes and jalapeno pepper in fairly small pieces.
Mince garlic, and combine all ingredients in a bowl.
Mash with a fork until avocado is soft but slightly lumpy.
Pita Chips
Preheat oven to 300 degrees.
Cut pita in half, and then cut around the ends as shown in the picture. You should have 4 semi-circles per pita bread.
Then, simply cut the pieces to whatever size and shape you want your chips to be.
Combine olive oil and spices in a bowl.
Use a basting brush to brush a small amount on both sides of each pita chip. You don't need a lot, just enough to add a tiny bit of flavour and prevent sticking.
When you put these in the oven, you definitely need to watch them, as they cook fast! I let mine cook for 4-5 minutes, flip them once, and cook again for another 3-4 minutes.
They should be lightly browned and crispy.
Serve with your awesome guacamole and enjoy!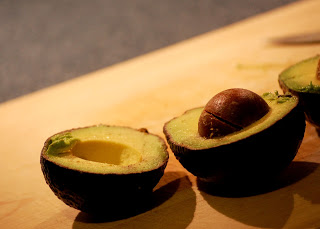 And that's it! See? Too easy.
Now there are MANY ways to change up your guacamole. Some people add cilantro and lime instead of lemon juice, and others even throw in red onion. It's supposedly really good with a few spoonfuls of plain greek yogurt added, which has 0% milk fat, and 18g of protein per serving!
We chose the ingredients we did because #1. Aside from the avocado itself, they are easy to buy locally and #2. It's very quick and easy to make. This guac probably only took 5 minutes to make!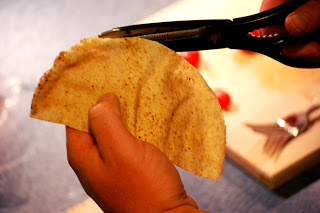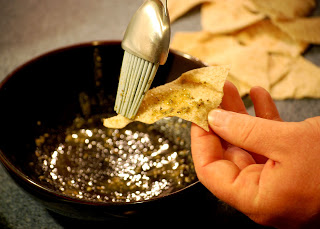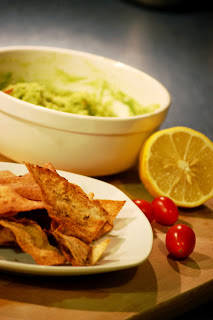 As we were devouring eating our guac and pita chips, we thought of a cool idea. Why not push your pita breads in to the holes of a muffin tin when you bake, to make scoopable chips? Perfect for dippin'.
Stay happy, stay healthy!
– Michelle
About Michelle
Michelle Mc Issac
is a 25 year old Nutrition Student, runner, yogi and gardner.  She is also the author of Glorious Eats where she blogs about life, health, food and shares her delicious, healthy recipes.  Read all about Michelle journey to stay fit and live a healthy, happy life.
Thank you Michelle for sharing your delicious, fast and easy recipe.