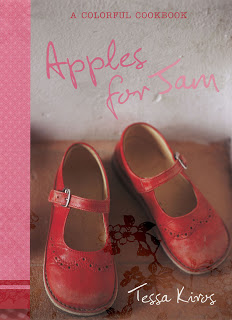 When I first saw the pair of red shoes on the cover of
Apples for Jam: A Colorful Cookbook
by Tessa Kiros, it made me feel happy and warm inside as I thought back to the time when my youngest daughter was a little girl and wearing similar shoes. I immediately purchased this cookbook based on the cover alone and must admit it was a wonderful decision.
This colorful, heartwarming cookbook begins with a lovely read in the Recipes for Life chapter.  The comforting, simple and delicious recipes are organized by eleven colors such as Fried Risotto Balls in the Red chapter, Cream of Winter Squash soup in the Orange chapter, Beet Gnocchi in the Pink chapter and Chocolate Loaf in the Brown chapter.  Tessa also shares childhood memories, anecdotes and cooking advice in each chapter.
Wonderful colour food photos with a few whimsical photos are displayed throughout the cookbook.  The Carousel photo on page 91 is one of my favourite photos as it conjures childhood memories of my own.
The recipe below is one from the Green chapter.  It is a quick and  easy recipe to make.  The tomatoes and capers add a wonderful taste.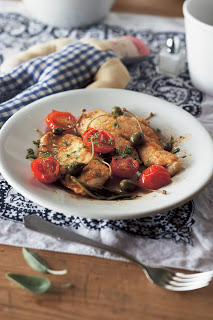 Chicken cutlets with tomatoes and capers from Apples for Jam cookbook
This is the kind of dish my mother-in-law has taught me to make — she is such an inspiration. You can add a couple of olives or anything else you think might be appreciated. I like to serve this with some pan-fried potatoes with rosemary and sage or even just my favorite bread. Buy chicken cutlets from your butcher, or buy one chicken breast and thinly slice it horizontally into four thin slices.
Ingredients
5 tbsp olive oil
2 garlic cloves, peeled and squashed
1 cup cherry tomatoes, halved
4 chicken cutlets
all purpose flour, for dusting
2 sage sprigs
4 tbsp white wine or water
1½ tbsp drained capers or caperberries in vinegar, rinsed
1½ tbsp chopped parsley
Instructions
Heat half the oil with the garlic in a large non-stick frying pan. Add the tomatoes with a little salt and fry over high heat until they are just starting to pucker. Lift them out onto a plate.
Add the remaining oil to the pan. Lightly dust the chicken with flour on both sides. Put into the pan, add the sage and fry over medium-high heat until the underside is golden. Turn over and season with salt.
Put the garlic cloves on top of the chicken if they look in danger of burning. Cook until the new underside is golden brown, then turn the chicken again and season with salt. Add the wine, put the tomatoes on top of the chicken cutlets and throw in the capers and parsley.
Let it bobble up and evaporate a bit, then put on the lid and leave for a couple of minutes before serving.
Apples for Jam: A Colorful Cookbook
Author:  Tessa Kiros
Publisher:  Andrew McMeel Publishing
Cost:  US $29.95
ISBN-23: 978-0-7407-6971-9
Format:  Hardcover Page Count:  432 pages
 Disclosure:   Apples for Jam – A Colorful Cookbook was sent to me by Andrew McMeel Publishing for review.