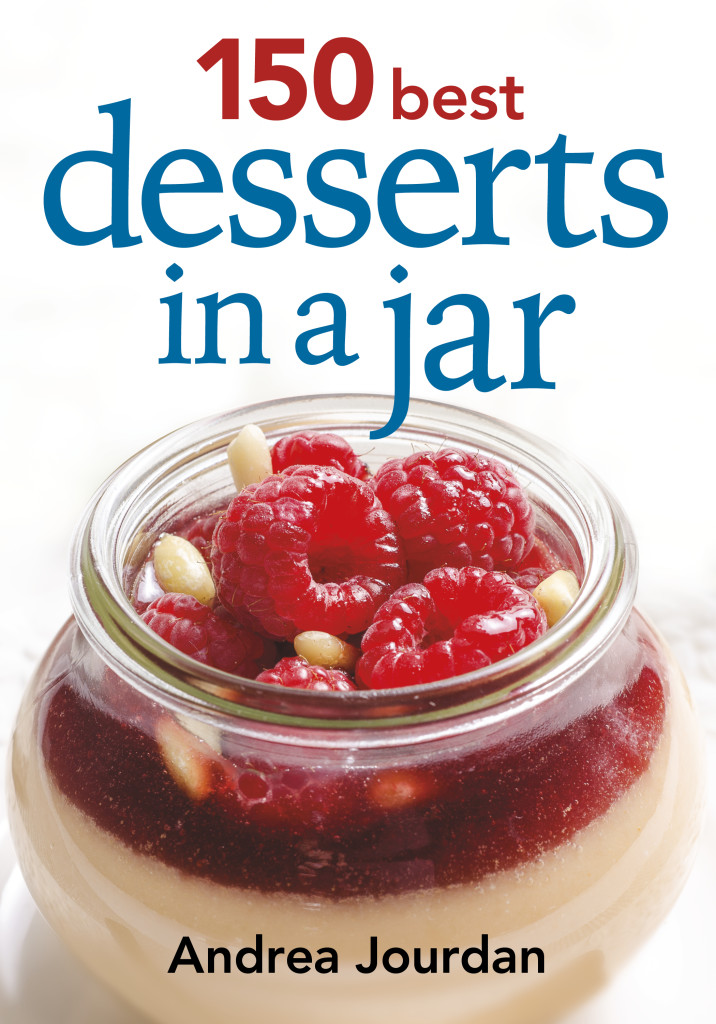 For those of us who have a collection of jam, mason or other assorted jars, the creative recipes from   150 Best Desserts in a Jar
  by Andrea Jourdan will show you how to fill those jars with warm and comforting and from the fridge desserts to impress your family and friends.
The  'Warm and Comforting and 'From the Fridge' sections include recipes such as:
Crumbles, Cobblers and Other Fruit Desserts (Pear and Almond Crumble, Apple and Orange Cobbler….)

Steamed Puddings and Bread Puddings (Brown Sugars Pudding, Chocolate and Hazelnut Pudding, Christmas Pudding….)

Creamy Custards, Flans and Creams (Plum Clafouti, Warm Salter Caramel Pudding, Fudge Cream….)
Cakes, Pudding Cakes and Soufflés (Double Chocolate and Chile Pudding Cake, Pineapple Rum Vanilla Baba, Lemmon Soufflé…)
Tutti Frutti (Peach Melba in a Jar, Lemony Summer Pudding, Fig Surprise, Blueberry Cream Cheese Mouse….)
Deliciously Creamy (Banana Cream Pie Crunch, Baked Chocolate Mousse, Limoncello and Blood Orange Cream….)
Not Your Mother's Jell-O (Cherry Jubilee with Wine Jelly, Panna Cotta with Fresh Fruit and Chocolate Sauce…)
From the Freezer (Banana Split in a Jar, Dulce de Leche and Apple Frozen Desset, Brownie Frozen Delight
150 best desserts in a jar also includes information on making desserts in a jar, from choosing the right jars, baking tips and techniques. Looking at the beautiful colour photos of the desserts will  inspire you to start looking for your jars, head to the kitchen and make some desserts!
Let's make dessert!
I bookmarked so many pages of desserts recipes to make from this book that I had a hard time deciding which one to make first.  Finally, I started with the Burnt Orange Crème Brûlée recipe.   It was fun and easy to make and it turned out just as good as it looked in the photo! After breaking through the burnt sugar topping and orange slice at the top with a spoon, I scooped  up a spoonful of custard that tasted not too rich, yet creamy with a subtle aftertaste of the organe liqueur. The only downside is that the desserts had to be refrigerated for 8 hours before serving, but it was well worth the wait.
Each jar makes a single dessert serving, but I only ate half, covered the jar with the lid and refrigerated the rest to enjoy the next day.
Cookbook shelf worthy?
Definitely yes!  The recipes in 150 best desserts in a jar are fun to make.  Get the kids involved and turn it into a family activity. Use the recipes as a guide to showcase your creativity and surprise your guests at your next special occasion.  Best of all, the desserts in a jar are easy to serve – one spoon for each jar!
Burnt Orange Crème Brûlée recipe from 150 best desserts in a jar
The best crème brûlée I ever tasted was at the now defunct but still memorable Léon de Lyon restaurant in France. I could never reproduce the exact texture and, unfortunately, was never allowed to learn their secret. After years of trying to create the perfect crème brûlée, I finally came up with a recipe that I like enough to share. As for Léon's crème brûlée — well, it might just have been the sweet Muscat wine I drank with it that made it taste so good.
Ingredients
• Preheat oven to 325°F (160°C)
• Four 8-ounce (250 mL) wide-mouth jars, buttered
• Baking pan large enough to accommodate the jars
• Kitchen torch, optional (see Tip)
6 large egg yolks
1⁄2 cup granulated sugar 125 mL
11⁄2 cups heavy or whipping (35%) cream 375 mL
2⁄3 cup whole milk 150 mL
2 tbsp finely grated orange zest 30 mL
1 tbsp orange-flavored liqueur 15 mL
3 tbsp packed brown sugar, divided 45 mL
1 orange, sliced thinly
Instructions
In a bowl, whisk egg yolks and sugar until pale and thick. Set aside.
In a saucepan over medium heat, bring cream, milk and orange zest to a simmer. Gradually add to egg yolk mixture, whisking until incorporated. Stir in orange liqueur.
Pour custard into prepared jars, dividing equally. Place jars in baking pan, spaced evenly apart and not touching the sides of the pan, and add enough hot water to come halfway up the sides of the jars. Bake in preheated oven for 35 minutes or until center of custards is still wobbly. Remove from oven and transfer jars to a wire rack to cool for 30 minutes. Cover jars with plastic wrap and refrigerate overnight.
Place jars on a baking sheet. Sprinkle a little brown sugar over each custard. Using kitchen torch, burn sugar just until it melts. Place orange slices over melted sugar. Sprinkle with remaining brown sugar, dividing equally. Using torch, heat until sugar has caramelized and orange rind is a little burnt. Serve immediately.
Notes
Tip: If you do not have a kitchen torch, preheat broiler. Place jars on baking sheet; sprinkle with a little brown sugar and place under broiler until golden. Remove from oven, sprinkle with remaining brown sugar, top with orange slices and place under broiler for about 2 minutes, until sugar browns to a dark color
Photos and recipes excerpted from 150 Best Desserts in a Jar by Andrea Jourdan © 2013 Robert Rose Inc. www.robertrose.ca May not be reprinted without publisher permission.
Disclaimer
150 Best Desserts in a Jar by Andrea Jourdan was sent to me by Robert Rose Inc. for review.
150 Best Desserts in a Jar
Author:  Andrea Jourdan
Pages :    248
ISBN 978-0-7788-0435-2
$24.95 US/$25.95 CA