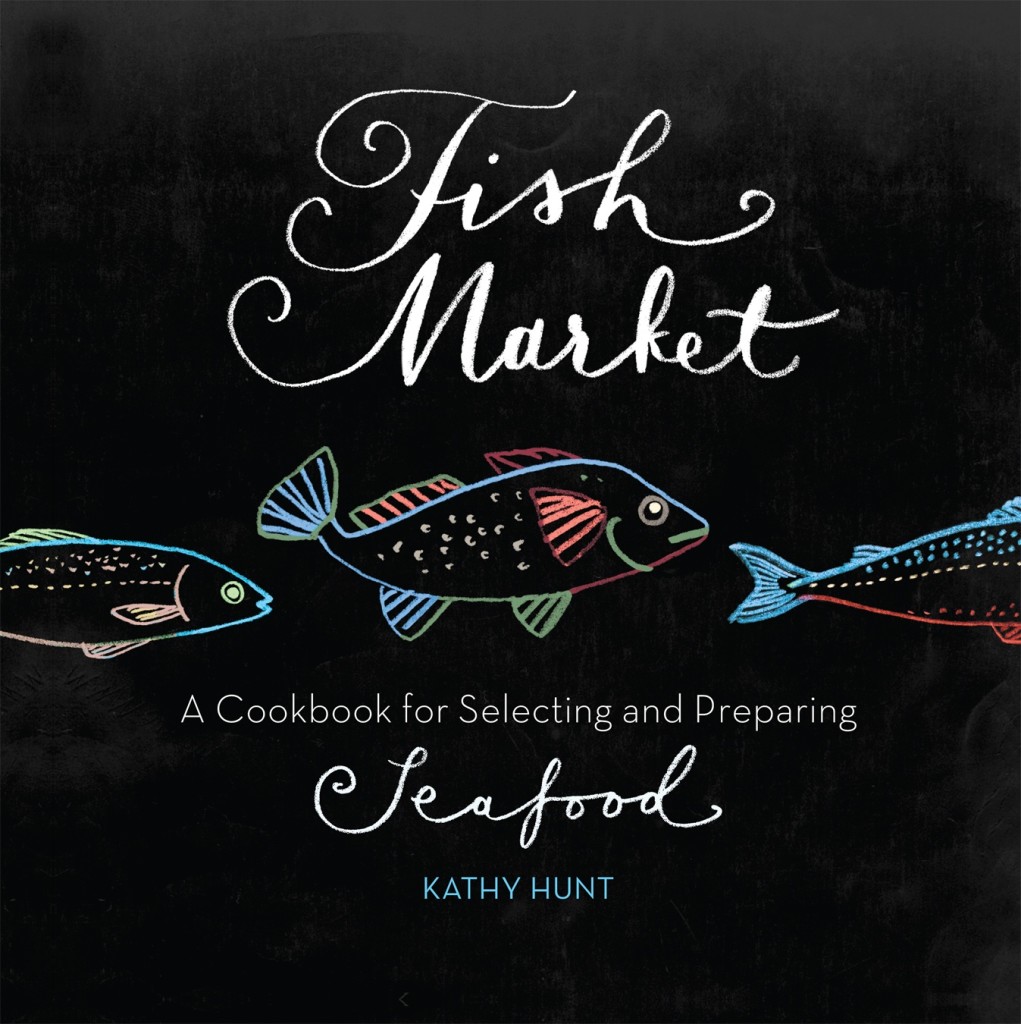 Fish Market – A Cookbook for Selecting and Preparing Seafood by Kathy Hunt is a must have cookbook to guide you in purchasing and preparing fish and seafood.
The Introduction contains valuable information on selecting seafood, cleaning fish, cutting steaks and fillets, cooking equipment, and ingredients.
The next 8 chapters lists over 130 recipes to make 50 types of fish from Anchovy, Crab, Flounder, Halibut, Mahi Mahi, Scallops, Squid, Mussels, Tilapia, Sea Bass, Octopus, Turbot and many more.
There is also a Seafood Sides chapter with recipes such as Mango Tomato Salsa, Lemony Fennel, Chilled Red Lentils, and Parmesan Polenta. An Eco-Rating Chart is also included.  Although there are no photos included, the recipes are well formatted and easy to follow.
One of the recipes I have made so far is Mussels Provençal on page 28.  I followed the recipe exactly and the mussels turned out exquisite.  The sauce was full of flavor and can be used to soak up slices of crusty bread or used a sauce for pasta.  It is one recipe that I will be making again.
Below is the recipe for Mussels Provençal courtesy of Running Press.

Mussels Provençal
Featuring the flavors of the South of France, this dish can be served as either a starter or an entrée. For a spicier version, replace the capers with 1 teaspoon of crushed red pepper flakes.
Ingredients
Serves 4 as an entrée or 6 as an appetizer

3 tablespoons olive oil
1 medium yellow onion, diced
1⁄4 teaspoon sea salt
4 garlic cloves, minced
1 medium red bell pepper, diced
1⁄2 teaspoons dried thyme
1 teaspoon dried basil
1 teaspoon capers, drained and rinsed
1 (28-ounce) can diced tomatoes with their juices
1 cup dry white wine
Freshly squeezed juice of 1 lemon
1⁄2 teaspoon freshly ground black pepper
4 pounds mussels, de-bearded and cleaned
1⁄2 cup chopped fresh flat-leaf parsley
Instructions
In a medium stockpot heat the olive oil over medium heat. Add the onion and salt and sauté until soft and somewhat translucent, 5 to 7 minutes.
Add the garlic, bell pepper, thyme, and basil and sauté for another 5
minutes.
Tumble in the capers, tomatoes, white wine, lemon juice, and black pepper and bring to a boil. Simmer for 5 minutes to marry the flavors.
Taste and adjust the seasonings, and then add the mussels.
Covert he pot and allow the mussels to cook until the majority of them have opened, 5 to 8 minutes. Don't overcook the mussels as this will make them tough.
Add the parsley and toss to combine.
Spoon the mussels into a large bowl, pourthe sauce overtop,
and serve.
Book cover photo and Mussels Provençal recipe printed with permission by Running Press.  For more information visit the Fish Market website.
Disclaimer
The Fish Market – A Cookbook for Selecting and Preparing Seafood by Kathy Hunt was sent to me for review by Running Press.  I was not compensated to write this review.