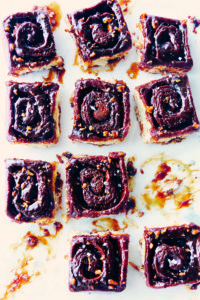 The Messy Baker cookbook review and Burnt Caramel and Sea Salt Sticky Buns
After making the Burnt Caramel and Sea Salt Sticky Buns recipe from the Messy Baker cookbook by Charmian Christie, I realized it's not the kind of cookbook you look through once and tuck away in your bookshelf.  It makes you want to roll up your sleeves and start baking up a storm.
I loved reading the introduction of this cookbook where Charmian refers to her mother as the Kitchen God who raised a Messy Baker and how she describes her baking experience with her mother when she was a young child.  Following the Introduction, there is a Basics and Essential Ingredients section before being introduced to a treasure of sweet and savory recipes.
The recipes are easy to follow as if Charmian is right there guiding you and there are beautiful colour photos throughout the cookbook.  The Pastry, Flaky, Crumbly, Dippable, Sloppy, Smudgy, Gritty and Drippy sections list recipes such as Mushroom, Leek, and Gruyére Tart, Deep Dark Cherry and Chipotle Brownies, Not-Too-Spicy Roasted Cauliflower, Boozy Chocolate Torte, Peppery Pear and Smoked Gouda Dutch Baby, Fig and Apricot Newtons and Homemade Crème Fraîche.
At the end of the cookbook, not only is there a Glossary and an Index, but sections on Common Measurements and Equivalents, Adjusting Cake Pan Size and Emergency Substitutions. I always found changing pan sizes for baking challenging, so I really appreciated the information on adjusting cake pan sizes.
Burnt Caramel and Sea Salt Sticky Buns
I made the Burnt Caramel and Seal Salt Sticky Buns not once, but twice. They were that good!  Caramel, sea salt, sticky buns, the recipe called out to me.  I love sticky buns, but kind of feel intimated by making caramel (really burns) and yeast dough (doesn't rise).  I prepared all my ingredients beforehand to make sure not to miss any steps.  I followed almost every step of the instructions and the Burnt Caramel and Sea Salt Sticky Buns turned out amazing!
The only instruction I didn't follow was to invert the pan containing the sticky buns onto a cookie sheet 5 minutes after they came out of the oven instead of 15 minutes.  The sticky buns stuck to the pan so I placed them back in the oven to warm the caramel and finally I was able to invert them onto the cookie sheet.  Needless to say, the first and second batch disappeared in no time.  When I hear my married daughter say "Mom, you  have to give me this recipe!", guess what one of her Christmas presents will be? Everyone was walking around with sticky fingers for awhile and The Messy Baker cookbook also got a little messy on pages 165-166.
Thanks to Harper Collins Canada, I am including the recipe for the Burnt Caramel and Sea Salt Sticky Buns below to give you a teaser of what to expect from The Messy Baker cookbook. Once you taste these sticky buns, you will want The Messy Baker cookbook in your kitchen.

Burnt Caramel and Sea Salt Sticky Buns from the Messy Baker cookbook
This is the perfect recipe for a rainy weekend. The smells of yeast and cinnamon along with the burnt caramel come together in an aroma so enticing, you'll be willing to burn your fingers to grab the first piece. Whether you have one with hot coffee, cold milk, or by itself, this tender, decadent sticky bun is best enjoyed while still warm.
Author:
Charmian Christie
Recipe type:
Smudgy Sweet
Ingredients
DOUGH:

1 package (21⁄4 teaspoons) active dry yeast
1⁄2 cup warm water (about 100°F)
1⁄3 cup granulated sugar, divided
1⁄4 cup unsalted butter
1⁄2 cup sour cream
1⁄2 cup milk
1 tablespoon pure vanilla extract
1 teaspoon fine sea salt
1 egg, at room temperature
4 cups all-purpose flour, plus more for kneading
CARAMEL SAUCE:

11⁄2 cups granulated sugar
1⁄4 cup water
1⁄4 cup unsalted butter
1⁄2 cup heavy cream
FILLING:

1⁄4 cup melted butter
11⁄2 cups packed Demerara or dark
brown sugar
11⁄2 tablespoons ground cinnamon
1 cup chopped walnuts
GARNISH:

Flaky sea salt (such as Maldon)
Instructions
To make the dough: In a measuring cup, sprinkle the yeast over the warm water. Stir the yeast into the water along with 1 teaspoon of the granulated sugar. Let stand for 5 to 10 minutes, or until foamy. Meanwhile, in a small saucepan over low heat, combine the remaining granulated sugar, butter, sour cream, milk, vanilla, and salt. Whisk until the butter has melted and the liquid is smooth. The mixture should be slightly warmer than room temperature. Add the egg and whisk to incorporate.
The dough can be mixed by hand in a large bowl or in the bowl of a stand mixer fitted with a dough hook. Place the yeast mixture, butter mixture, and flour in a large bowl and stir until the ingredients come together evenly. If mixing by hand, when it becomes too stiff to stir, turn the dough onto a lightly floured work surface and knead until smooth and elastic, adding more flour if the dough is sticky. If using a stand mixer, the dough is ready when it pulls away from the side of the bowl and begins to climb up the dough hook. Pull the dough from the hook and place the dough on a lightly floured work surface. Knead until smooth and elastic (about a minute). Transfer to an oiled bowl, cover with plastic wrap, and let rise for 90"minutes to 2 hours, or until doubled in size. When the dough has almost doubled, make the caramel sauce.
To make the caramel sauce: In a heavy-bottomed stainless steel saucepan with high sides, combine the granulated sugar and water. Cook over high heat, stirring occasionally, until the sugar melts and begins to boil. Keep cooking without stirring, brushing down the sides with a pastry brush dipped in water as needed. Boil 6 to 10 minutes, or until the syrup turns a deep amber color. Be careful to keep an eye on this, as it can burn quickly. To avoid scalding yourself, put an oven mitt on the hand that will stir. Remove the pan from the heat and carefully stir in the butter. When the butter has been incorporated, stir in the cream. Remain cautious, as it might bubble up again.
To assemble and add the filling: Grease a 13" × 9" baking dish.
Punch the dough down. On a floured surface, roll the dough into a rectangle about 20" × 12". Drizzle the melted butter over the surface of the dough and spread to within 1" of the edges using a pastry brush. In a small bowl, combine the Demerara or brown sugar and cinnamon. Sprinkle the buttered surface with the cinnamon sugar and walnuts. Roll up the dough, starting with the long side. Press firmly to secure the roll. Cut the dough into 12 pieces about 11⁄2" thick. If your ends are terribly uneven and have no filling, as is always the case with mine, trim and discard the ends.
Pour the caramel sauce into the baking dish. Arrange the 12 buns on top, cut side down. Cover with a tea towel and let rise for about 45 minutes, or until doubled in size.
While the buns rise, preheat the oven to 350°F and line a rimmed baking sheet with foil.
Bake for 35 to 40 minutes, or until golden brown. Remove from the oven and let stand for 5 minutes. While wearing oven mitts, place the rimmed baking sheet on top of the buns and invert them onto the baking sheet. Scrape the caramel from the baking dish over the buns. Sprinkle with flaky sea salt. Allow to cool slightly before eating.
Notes
Sticky buns are best eaten warm but will keep in an airtight container for 2 or 3 days. Split them in half, butter the cut surfaces, and pop them under the broiler to bring them back to life. Leftovers can also be frozen for up to a month.
Recipe from The Messy Baker by Charmian Christie ©2014. Photographs © Ryan Szulc. Published by HarperCollins Canada. All rights reserved.
I made these addictive Burnt Caramel and Sea Salt Sticky Buns for  the #MessyBakerMonday event.  Below is a list of amazing recipes from The Messy Baker cookbook made by food bloggers for this event.  Enjoy!
Piglet Muffins with Caramelized Bacon
 Blueberry Lime Cornmeal Muffins
Double Stuffed Uber Oreos
Cherry and Lemon Macaroon Meringues
Savoury Cheddar and Pecan Bites
Chili Cheese Twists
Ginger and Vanilla Scones
Stuffed Tomato Arugula Focaccia
Profiteroles
Welch Griddle Cakes
 Orange Walnut Brownies
Basil and Aged Cheddar Scones and Deep Dark Cherry and Chipotle Brownies
Wiskey-Kissed Pecan Pie with Boozy Brown Sugar Whipped Cream
Disclosure:
I received a copy of The Messy Baker cookbook for review from Harper Collins Canada.  The opinions are my own.