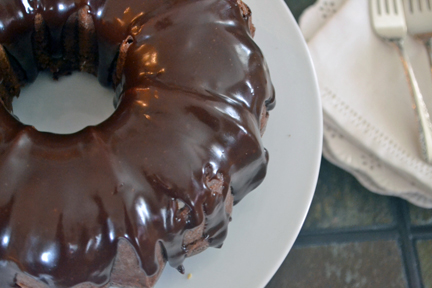 Chocolate Espresso Pound Cake is one of over 100 traditional baking recipes featured  in the Butter Baked Goods cookbook by Rosie Daykin.  Rosie is the owner of the Butter Baked Goods bakery in Vancouver which is famously known for its best gourmet marshmallows in North Amercia.
The nine chapters feature recipes of baking goodness for muffins, scones, cinny buns, loaves, drop and sandwich cookies, roller and cut cookies, bars and slices, butter creams and frostings, cakes, cupcakes and whoppie pies, pastry pie and tarts, and confections. And, yes! Rosie included the Butter's Famous Marshmallows recipe with a step-by-step photo guide.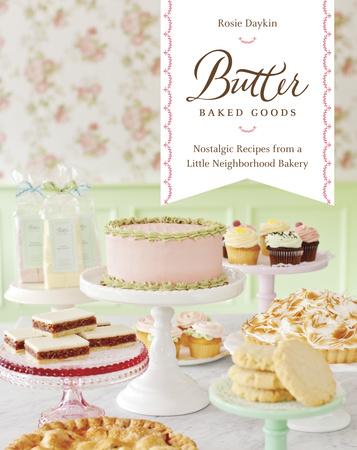 The recipes are written in an easy to follow format preceded by a few lines of good to know information. The Chocolate Espresso Pound cake recipe is on page 163 and the Chocolate Glaze is on page 137.  The cake turned out beautifully rich in flavour with the combination of chocolate and espresso coffee.  This is the cake you want to have on hand to satisfy your chocolate craving.
My copy of the Butter Baked Goods cookbook is full of post-its on the pages of recipes  I want to make.  I really love the look and feel of this cookbook with its pastel colours and beautiful photography.  It makes me want to take out my china tea pot, cups and plates and have a small afternoon tea to serve the wonderful treats I will be making.
The Butter Baked Goods cookbook makes a wonderful gift for both the beginner or experienced bakers on your holiday gift list.
I wrote this post as part of the Butter Baked Goods Giveaway event.  Take a look at what other fabulous recipes from the cookbook the other participants are hosting on their blogs.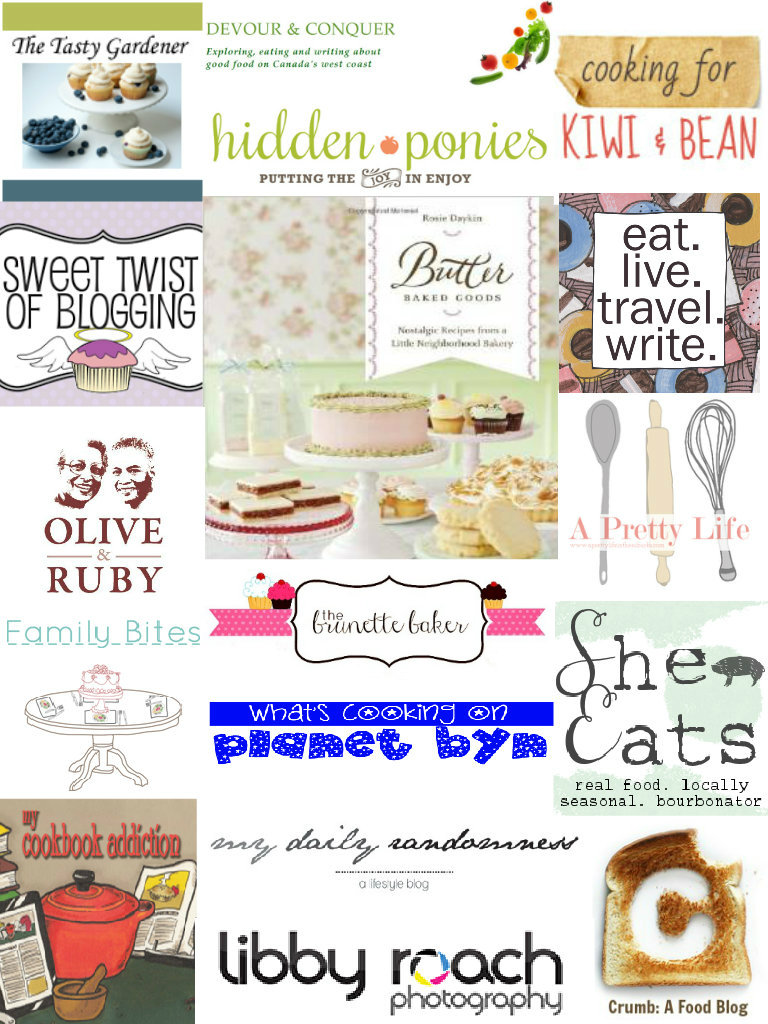 Jenny from The Brunette Baker made Butter's Classic White Cake and Coffee Buttercream Frosting
Enter the Butter Baked Goods Giveaway!
You can win a personally signed Butter Baked Goods cookbook from Rosie Daykin as well as a delicious box of goodies from the bakery.  Prize value at $125.
CONTEST RULES
Contest open to Canadian & American mailing addresses only and who have reached the age of majority in the province, state or territory in which they reside.

MANDATORY: Simply leave a comment below and tell me your favourite holiday dessert.
BE SURE to click the widget options below for both mandatory and optional entries to be sure you have entered the contest.
Giveaway closes Wednesday, December 3, 2014.
Thanks to Jenny Jacks of the Brunette Baker for organizing this event, Rosie Daykin of Butter Baked Goods for providing the sweet giveaway, and Meg Robbins de Haan of the Sweet Twist of Blogging for the wonderful banner she designed for this event.
Disclosure: The Butter Baked Goods cookbook was provided to me by Random House Canada for review at no cost.