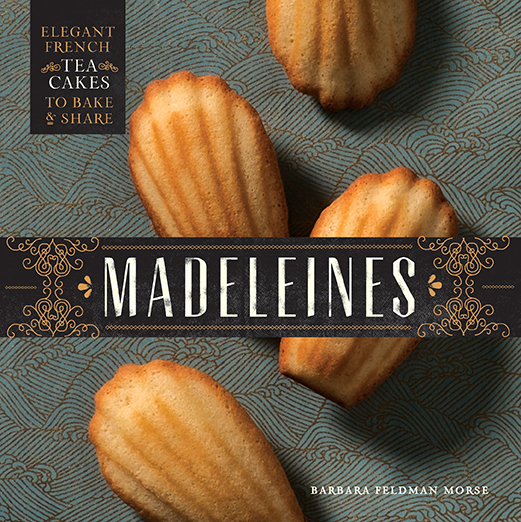 The first time I read a Madeleine recipe was from The Good Cook: Desserts Classic which was part of the Time Life cookbook series.  The recipe was half a page long with no photograph.  Since I didn't know what Madeleines were at that time, I bought the molds (which were not easy to find) and baked them.  They turned out quite good – little pillows of sponge cakes ready to be dipped in tea or coffee. Madeleines have come a long way since then.
Fast forward to the Madeleines cookbook by Barbara Feldman Morse. This cookbook features over 70 recipes for Madeleines and elegant French tea cakes to bake and share, accompanied by colour photos.   I was quite  impressed with the variety of both the sweet and savoury Madeleine recipes listed as I have only known the familiar buttery Madeleine.
At the beginning of the book, we are introduced to a brief history of the Madeleine. Legend has it that King Louis XV named them after  Madeleine Paulmier, a pastry chef from Commercy.  We also learn the two methods of making these elegant tea cakes: the classic method and the one bowl method. Information on necessary equipment, ingredients, helpful tips and storage solutions is also provided.
Recipes
The Madeleines
The Madeleines Cookbook is divided into seven chapters which includes recipes such as: Classic French Madeleines, Tahitian Vanilla Bean Madeleines, Rosewater Madeleines, Madeleines au Chocolat, Cheese Danish Madeleines, Dark Espresso Chocolate Madeleines, Kahlua Madeleines, Grade B Maple Syrup Madeleines, Almond Macaroon Madeleines, Caramelized Onion and Asiago Madeleines, Brie-Suffed Madeleines Puffs, Black and White Madeleines, and Hazelnut and Frangelico Madeleines.  The last chapter is all about presentation; dips, sides, and serving suggestions.
Let's make some Madeleines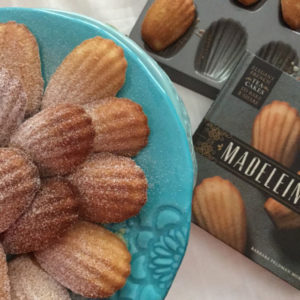 Tahitian Vanilla Bean Paste Madeleines
These madeleines were my favourite.  I had a hard time finding Tahitian Vanilla Bean Paste so I ordered Madagascar Bourbon Vanilla Paste online.   I used the one bowl method and they were ready to be baked in no time.  The scent of vanilla filled the kitchen while they were baking.  My husband, who is part of my taste team, loved the taste and compared them to eating little sponge cakes.

Dark Chocolate Espresso Madeleines
Dark chocolate and espresso coffee pair well in this recipe.  The glaze intensifies the flavour.  I liked these madeleines as well as did my husband.  Warning – you can only eat a couple before going on chocolate overload! (The Chocolate Espresso Madeleines are shown at the bottom of the photo above)
Bookshelf worthy?
If  you only  like the classic madeleines with made with lemon zest or vanilla, I wouldn't recommend it.  Madeleines is a cookbook that will let you explore the different flavours of madeleines that can be served for any occasion.
A big thanks to Quirk Books for sharing  the Dark Chocolate Espresso Madeleines recipe listed below.
Dark Chocolate Espresso Madeleines
Author:
Barbara Feldman Morse
Ingredients
1 ½ sticks (12 tablespoons) unsalted butter
1 cup granulated sugar
1 cup semisweet or bittersweet chocolate chips (or 4 ounces chopped semisweet chocolate)
1 tbsp instant espresso powder dissolved in ⅓ cup warm water (or ⅓ cup strong black coffee, or 2 tablespoons instant coffee crystals dissolved in ⅓ cup warm water)
2 large eggs, room temperature
1 cup all-purpose flour
½ cup Dutch-processed or unsweetened cocoa powder, either natural or processed
2 cups semi-sweet chocolate chips (for glaze)
Instructions
Place a rack in the center of the oven and preheat oven to 325°F. Coat two 12-shell pans with baking spray, or melt an additional 4 tablespoons butter and brush a little in each mold.
Place butter, sugar, chocolate, and espresso in a 2-quart microwavable glass bowl or measuring cup. Microwave on low power for 1 to 2 minutes and then stir mixture with a whisk until smooth. If butter is not melted, microwave for 15-second intervals, stirring after each, until smooth. (Alternatively, you can combine these ingredients in the top of a double boiler over simmering water and stir with a whisk until smooth. Remove from heat.)
Let mixture cool for about 3 to 4 minutes and then add eggs, one at a time, whisking well after each addition until completely blended. Add the flour and cocoa, whisking thoroughly. The mixture should be very dark, thick, and shiny.
Using a 1 ½ -inch-diameter scoop or a teaspoon, fill shell molds with batter until almost full. Gently press batter to distribute it evenly.
Bake for 10 to 13 minutes, until madeleines puff up and no shiny spots remain in the centers. Small cracks may appear, but be careful not to overbake.
Remove pans from oven and let cool on a wire rack for 2 to 3 minutes, then invert and tap madeleines onto the rack. You may also use a small offset spatula to remove each one individually. Let cool completely.

Chocolate Glaze

Place chocolate in a 2-quart microwavable glass bowl or measuring cup. Microwave on low power for 1 to 2 minutes and then stir with a whisk until smooth. If chocolate is not melted, microwave for 15-second intervals, stirring after each, until smooth.
Place a piece of waxed paper on a cookie sheet or large wire rack. Hold each madeleine by its narrow end and dip one-third of it in the warm chocolate glaze. Lift the madeleine and scrape the flat side along the side of the bowl to remove excess. Place madeleines on the waxed paper and let glaze set, 30 to 60 minutes.
Acknowledgement
Madeleines cookbook.  Copyright © Barbara Feldman Morse. Reprinted by permission from Quirk Books. Photography credit for Madeleines book cover and Madeleines Dark Chocolate Espresso Madeleines:  Steve Legato 
Disclaimer
Quirk Books sent me the Madeleines Cookbook to review.  I was not compensated to write this review and the opinions are my own.