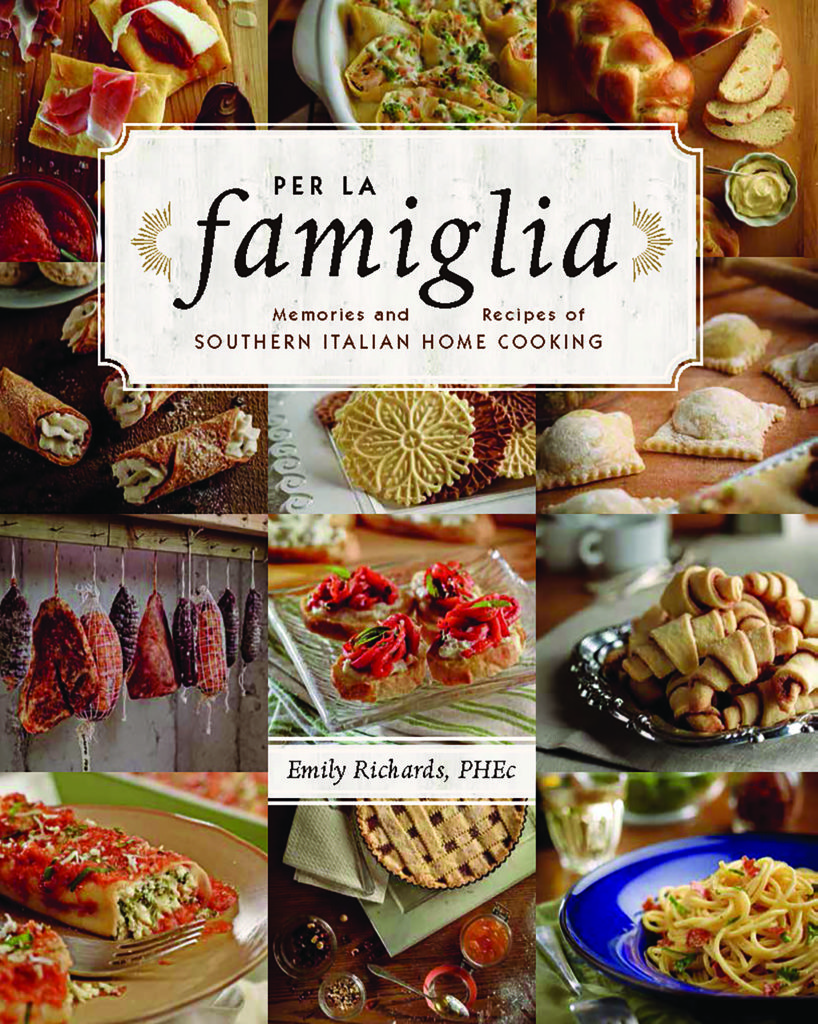 In the Per La Famiglia (Memories and Recipes of Southern Italian Home Cooking) cookbook, Emily Richards captures the essence of Italian home cooking.  Per la famiglia means "for the family" and in this cookbook Emily shares family recipes and traditions that have been passed down from generation to generation.
Chapters
In the Introduction, Emily writes about her life as a daughter of  Southern Italian immigrants and the food of Southern Italy.  She emphasizes the importance of participating in cooking the family meal and taking notes of the recipes to share with future generations of cooks.
The rest of the chapters include:  Food Glossary, Family Tree, Menus for Italian Celebrations, Kitchen Staples, Easter, Christmas,Antipasti, Pizza e Pane, First Courses and Light Meals, Main Courses, Vegetables and Salads, Desserts, and Cookies. The chapters are introduced with anecdotes about the recipes.
In the Italian culture, food is the centre stage of celebrations. Per la Famiglia  provides menus and recipes for these occasions.
The Recipes
The 130 recipes are well written and easy to follow. The titles of the recipes are written in both English and Italian.  Each recipe begins with an introduction and some include ingredient substitutions and Make-ahead tips. The 70 beautiful colour photos are spread throughout the cookbook, including family photos.
Sample recipes include: Chicken Stock and Home-made Tomato Sauce (Kitchen Staples), Balsamic Lamb Chops (Easter), Cod with Tomatoes and Potatoes (Christmas), Cheese Filled Rice Balls (Antipasti), Grilled Sausage Pizza and Rosemary Olive Bread (Pizza e Pane), Potato Gnocchi, Spaghetti Carbonara, Easy Gorgonzola Cheese Sauce and Three Meat Lasagne (First Course and Light Meals), Polenta with Sausage and Rapini and Veal Roast Stuffed with Figs (Main Courses), Eggplant "Meatballs" and Pumpkin Flower Fritters (Vegetables and Salads), Jam Tart and Celebration Custard Cake (Desserts).
Tested Recipes
Potato Gnocchi (Gnocchi di Patate) p.116
Every time I make gnocchi they're either hard like a stone and sink to the pit of your stomach or they fall apart while cooking.  My mother didn't make gnocchi, that was my mother-in-law's domain.  "You have to feel the dough" she used to tell me when I admitted my gnocchi disasters. Unfortunately, although I've watched her make gnocchi many times, I did not write down the recipe.
So, reluctantly I tried this recipe expecting yet another disaster, but much to my delight and surprise, the gnocchi turned out perfectly.   The recipe calls  for approximately 3 cups of flour or as needed to form a slightly, sticky soft dough.  I started adding two and a half cups of flour and the dough came together as described.  I could hear my mother-in-law's voice in my head telling me to feel the dough as I rolled out dough, cut and formed then on the gnocchi board .
 The gnocchi turned out soft and light and did not fall apart while cooking.   I suspect  it's the potato-flour ratio and the type of potatoes that are used to make good gnocchi.   This recipe is a keeper.
Eggplant "Meatballs" (Polpette di Melanzane) p. 174
I love eggplants and have made them in a variety of recipes but this is the first time I made eggplant meatballs. This recipe comes together quite quickly once the eggplants are cooked.  Best of all they're baked (with the option of frying).  I served them with tomato sauce.  My family loved the taste and now this recipe is part of my eggplant recipe repertoire.
Seafood Stuffed Shells (Conchiglie Ripiene con Frutta di Mare) p.57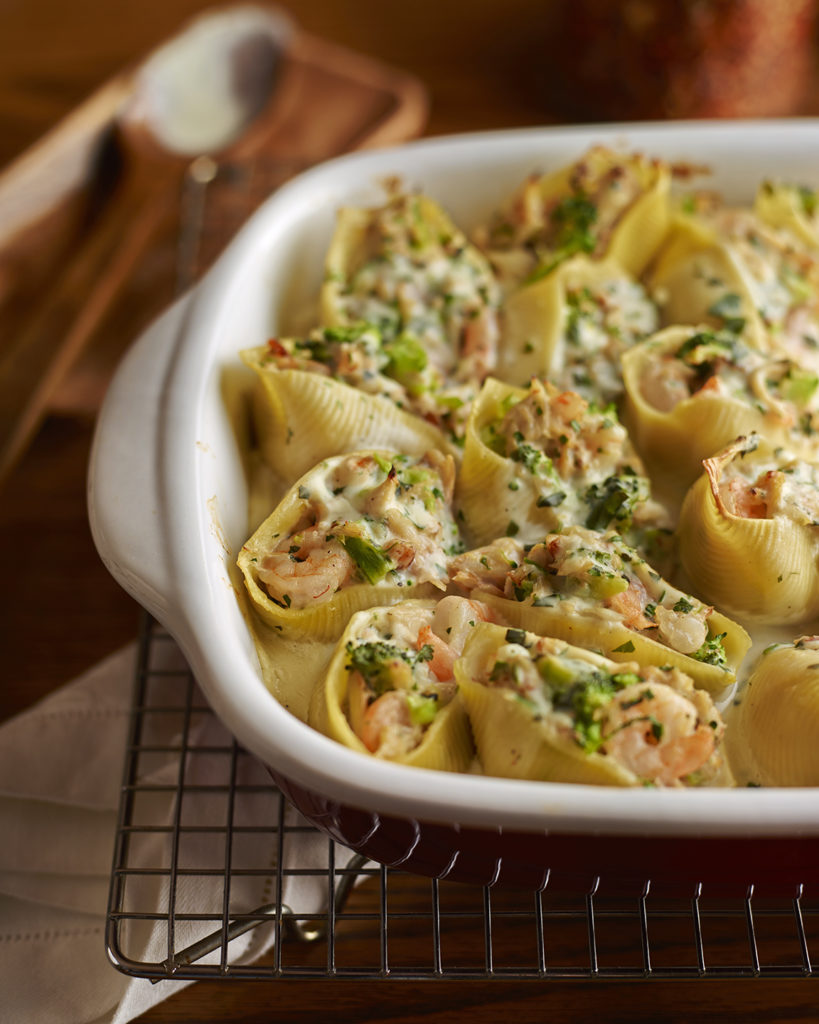 Christmas Eve is the Feast of the Fishes in my family.  Fish dishes like baked cod, mussels cooked in  a wine based tomato sauce accompanied by pasta, fried calamari, shrimps adorn our dinner table that night.   I made the Stuffed Seafood Shells last year for Christmas Eve.  I've made stuffed shells before but never with seafood.  These jumbo shells are stuffed with cooked shrimp, crabmeat and broccoli, covered with a creamy herb sauce and sprinkled with Parmesan cheese.
The herb white sauce thickened with cream cheese is easy to make.  The cooked shrimp and crab meat (lobster and scallops can be substituted) are found at your fish monger.  Once the shells are cooked, the sauce and filling prepared, assembly is done quickly.  My whole family loved this dish.  The taste of the mixture of the seafood with the sauce and cheese was exquisite.  This dish will certainly be added to our Christmas Eve menu this year.
Thanks to Whitecap Books, below is the recipe for Seafood Stuffed Shells.
Seafood Stuffed Shells
I love stuffed pasta. With seafood it becomes an exquisite dish that can be brought to Nonna's house for a traditional Christmas Eve fish dinner or it can be served up for a celebratory New Year's Eve party. These shells are a luxurious way to enjoy crab and shrimp. Try it also with lobster or chopped scallops, if desired.
Ingredients
Creamy Herb Sauce
¼ cup (60 mL) butter
1⁄3 cup (80 mL) all-purpose flour
4 cups (1 L) milk
8 oz (225 g) package cream cheese, cubed (One package of cream cheese is equivalent to 1 cup (250 mL)
¼ cup (60 mL) chopped fresh basil
2 Tbsp (30 mL) chopped fresh Italian parsley
2 Tbsp (30 mL) chopped fresh chives
2 tsp (10 mL) lemon zest
½ tsp (2 mL) salt
½ tsp (2 mL) black pepper
Shells
24–30 jumbo pasta shells
1 lb (450 g) small cooked shrimp, finely chopped
1 lb (450 g) cooked crabmeat
3 cups (750 mL) cooked broccoli, chopped
½ cup (125 mL) fresh grated Parmesan cheese
Instructions
Creamy Herb Sauce
In a saucepan, melt butter over medium heat. Whisk in flour and
cook for 1 minute. Gradually whisk in milk and bring to a boil.
Reduce heat to medium-low and cook for 10 minutes or until thickened to coat back of spoon.
Remove from heat and stir in cream cheese, basil, parsley, chives, lemon zest, salt and pepper until smooth.
Set aside.
To make a Creamy Rose Herb Sauce, stir in ½ cup (125 mL) of a tomato-based pasta sauce into the cream sauce before using.
Shells
In a large pot of boiling salted water, cook shells for about 7 minutes or until al dente. Drain and rinse under cold water.
Place in a single layer on damp tea towel. Preheat oven to 400°F (200°C). Grease a 13 × 9-inch (33 × 23 cm) casserole dish; set aside.
Set aside 2 cups (500 mL) of the creamy herb sauce and add broccoli and seafood to
remaining sauce.
Fill shells with broccoli and seafood mixture. Place in prepared casserole dish.
Drizzle reserved sauce over top shells and sprinkle with Parmesan. Cover and bake
for about 20 minutes.
Uncover and bake for 15 minutes longer or until golden and bubbly.
Is Per La Famiglia Cookbook bookshelf worthy?
Some of the recipes in this cookbook resonate with me as I too am the daughter of Southern Italian immigrants and leaned how to cook assisting my mother in the kitchen. The Italian cuisine differs from region to region so I've bookmarked many more recipes to try.
Per la Famiglia is not only about recipes but traditions, celebrations, and most important family.
Per La Famiglia (Memories and Recipes of Southern Italian Home Cooking)
Author:  Emily Richards
ISBN:  9781770502246
Softcover, 234 pages
Publisher: Whitecap Books Ltd.
List Price:  $29.95
Acknowledgement
Copyright©2015 by Emily Richards.  Recipe excerpt and photos used with permission by Whitecap Books.
Disclaimer:
A copy of the Per la Famiglia cookbook was sent to me by Whitecap Books to review.  The opnions are strictly my own.  This post contains affiliate links.