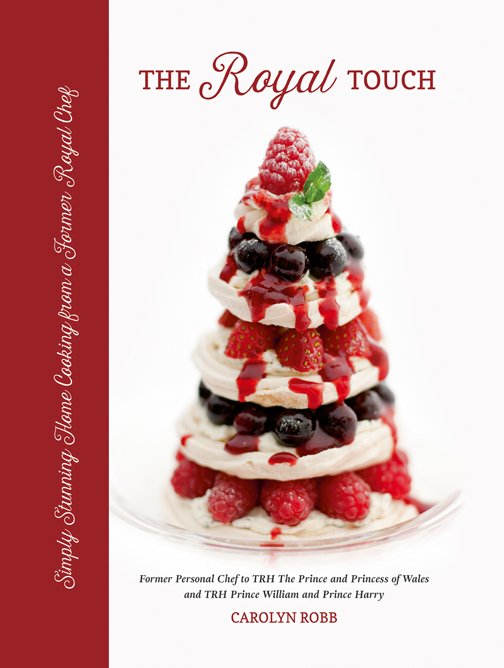 I was attracted to The Royal Touch: Simply Stunning Home Cooking from a Royal Chef
by Carolyn Robb because of its beautiful Eton Mess dessert on the front cover.  At first, I thought it was a dessert cookbook full of afternoon tea delights, but while reading through the recipes, I discovered there is also an abundance of sweet and savoury recipes for all occasions.
The Royal Touch Cookbook Chapters
Reading through the Introduction chapter gave me an insight into Carolyn's life.   She expanded the culinary skills she learned at her mother's side by graduating from the Cordon Bleu Culinary Institute, working as the Personal Chef to TRH Prince and Princess of Wales, Prince William and Prince Harry for ten years, culinary travels, and cooking for family and friends.
The 100 diverse recipes listed in The Royal Touch Cookbook reflect these experiences and are dispersed throughout  chapters such as the  Magnificent Morsels (Great Little Snacks and Nibbles), Beautiful Beginnings (First Courses and Soups), Light & Summery, (Main Courses for Sunny Days and Balmy Nights), Warm and Comforting  (Main Courses for the Winter),  Little Bites (Organic Food for Children), Sweet Temptations (Divine Desserts & Nostalgic Puddings), Cookies & Small Confections (Tantalising Teatime Treats Inspired by My Childhood and My Travels), Cakes (Close Your Eyes and Think of an English Country Afternoon Tea), Bountiful Breads (Large and Small, Savoury and Sweet, Collected from Far and Wide), and Tracklements & Treats (From the Preserving Pan).
The Royal Touch Cookbook Recipes
Stunning, colour photos complement the seasonal recipes that are well structured and easy to follow. Tested in American kitchens, they list ingredients in both metric and imperial measurements.  It was a delight to read the anecdotes that preceded some of the recipes, and viewing the beautiful colour illustrations throughout the cookbook.  The Glossary, located at the back of the book, provides detailed descriptions of unfamiliar ingredients and cooking terms.
These are just a few of the delicious recipes listed: Mushroom Tartlets (Magnificent Morsels), Pea and Ham Risotto (Beautiful Beginnings), Asparagus, Swiss Chard and Goats' Cheese Tart (Light and Summary), Aubergine and Goat Cheese Stack (Warm and Wintery), Tiny Treacle Tarts (Little Bites), Eton Mess and A Trifle Royal (Sweet Temptations), Almond Frangipane Bites and Melting Moments (Cookies and Small Confections), Chocolate Biscuit Cake, Rose Petal Cake and  Mini Victoria Sandwich Cakes (Cakes), Swiss-Style Butter Bread and Flowerpot Corn Bread (Bountiful Breads),  (Flavoured Sugars, Lemon Curd and Simple Apple Chutney (Tracklements & Treats).
 Tested Recipes
 A Trifle  Royal (Page 150)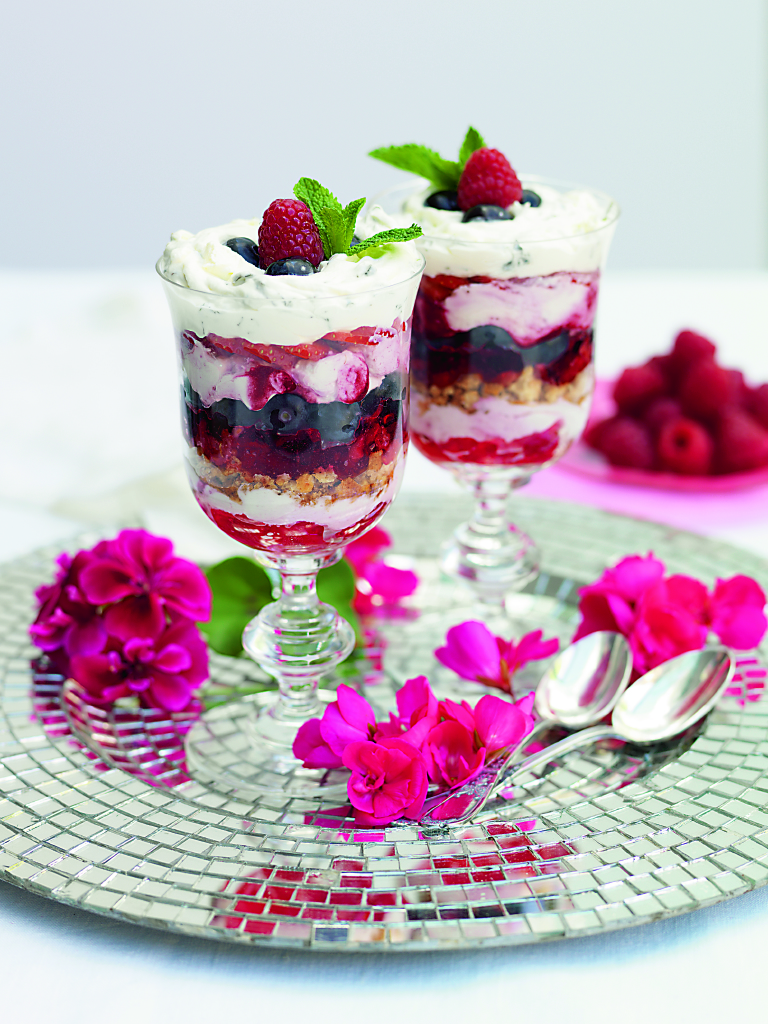 The first time I tasted trifle was in London, England while visiting friends.  The flavours of this recipe are reminiscent of that time.  The combination of the flavours and textures of the berries, strawberry jelly, Amaretti biscuits and cream, tastes fresh and delicious.  It's an ideal  dessert to end a summer meal.
Aubergine, Tomato and Goat Cheese Stacks  (Page 83)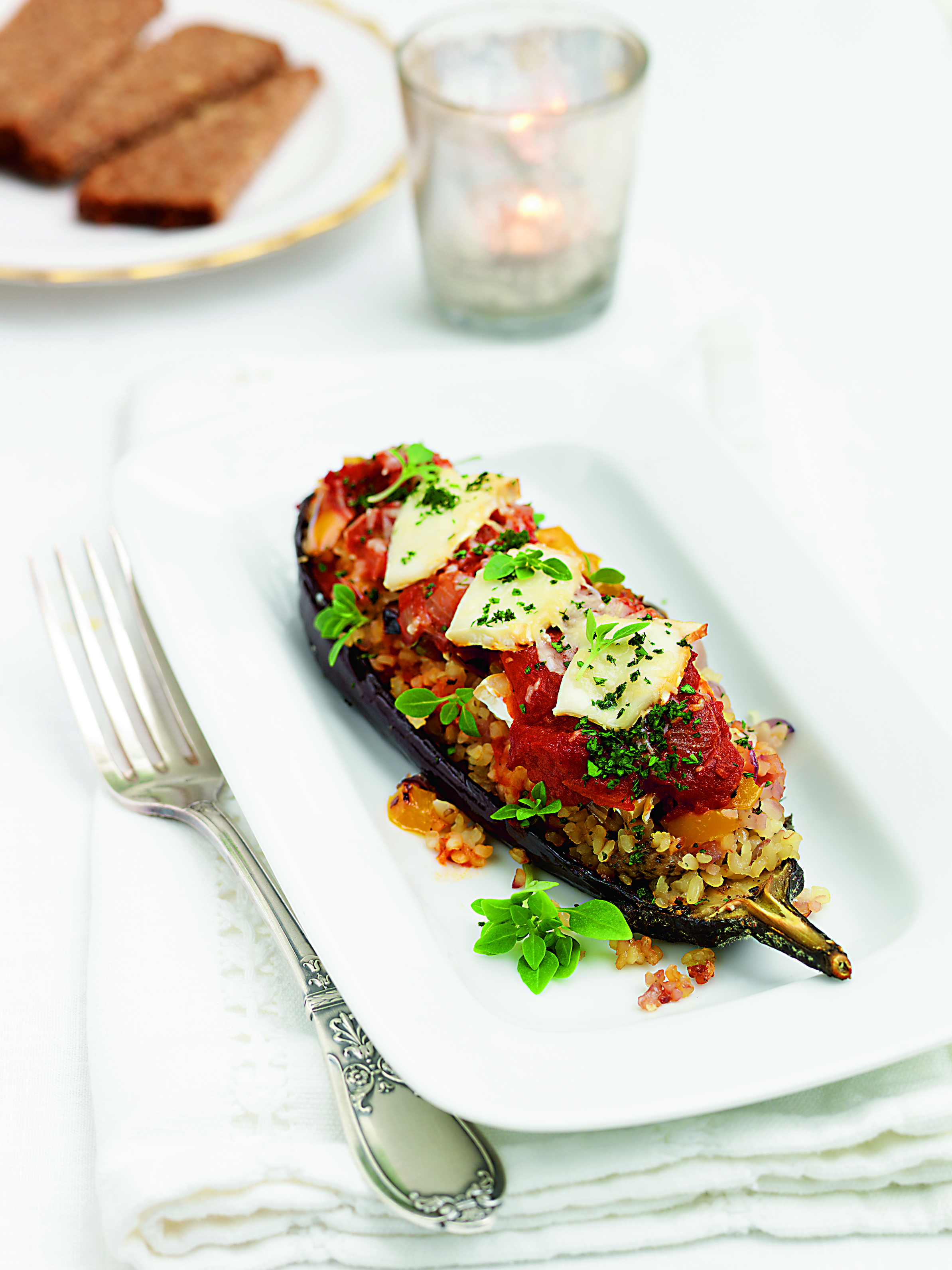 Aubergine (eggplant) is one of my favourite vegetables which  I have prepared in countless ways.  What I like about this version is the bulgur wheat and peppers stuffing, topped with tomato sauce and goat cheese makes it a substantial dish full of flavour, makes it a meal on its own.   Some ingredients of this recipe are made in advance while preparing others so it's best to read the recipe through and plan accordingly.
Aubergine, Tomato and Goats' Cheese Stack
A hearty, healthy dish for both vegetarians and non-vegetarians.
Ingredients
2 large aubergines *
Olive oil, salt & freshly ground black pepper
1 yellow pepper
1 red pepper
1 red onion
100g / 3½oz bulgur wheat
1 sprig of fresh thyme
150g / 5½oz goats' cheese log
60g / 2oz finely grated parmesan (½ cup)
A handful of fresh basil leaves

FOR THE TOMATO SAUCE

2 onions
2 cloves of garlic
A little olive oil
800g / 28oz can plum tomatoes
2 sprigs of fresh thyme
Salt, black pepper and sugar
Instructions
Preheat the oven to 200ºC / 400ºF.
Wash the aubergines and cut them in half length-wise. Score the flesh with a sharp knife, season with salt and freshly ground black pepper and drizzle with olive oil.
Bake the aubergines for about 30 minutes, or until the flesh is soft.
While the aubergine is baking, make the tomato sauce: Finely dice the onion and crush the garlic, then sauté them together in the olive oil until the onion is soft and translucent. Add the tomatoes and thyme and season with salt, pepper and sugar to taste. Cook slowly with the lid on for 30 minutes, then for a further 15 minutes with the lid off, to allow some of the liquid to evaporate so that the sauce thickens.
Dice the peppers and sauté them in a little olive oil,until they are soft. Keep on one side.
Finely chop the red onion and sauté it in a little olive oil, add the bulgur wheat and some water, as per the specific cooking instructions of the bulgur wheat you are using. It generally it cooks in about 12 minutes but check this as it varies with different brands.
Once the aubergine is ready, scrape the flesh out carefully, so as not to damage the skins. Chop the flesh and mix in the fresh thyme leaves. Season to taste with salt and pepper. Return the skins to the baking tray ready to fill.
Begin with a layer of bulgur wheat in the base of the aubergine skin.
Slice the goats' cheese log into 12 rounds and then halve them into semi-circles. Place 3 pieces into each aubergine.
Next, add a layer of aubergine flesh.
Cover this with some tomato sauce.
Sprinkle a generous layer of grated parmesan onto the sauce.
Now another layer of bulgur wheat.
Top this with the diced sautéed peppers and more grated parmesan.
Finish with a generous covering of tomato sauce and a few more pieces of goats' cheese.
Bake at 200ºC / 400ºF for 25 minutes.
Just before serving, toss a few little basil leaves on top and accompany the aubergine with the remaining tomato sauce and some extra grated parmesan.
Notes
If you serve this with a baked potato, new potatoes or some crusty bread and a green salad it makes a lovely vegetarian main course.

If you replace the bulgur wheat with quinoa or rice, then this is perfect for anyone with a gluten or wheat intolerance.
I recommend The Royal Touch cookbook for its delicious seasonal recipes, stunning colour photographs, and story-telling.  It makes a great addition to your cookbook collection.
The Royal Touch:  Simply Stunning Home Cooking from a Former Royal Chef
Author:  Carolyn Robb
Publisher:  ACC Editions
Hardcover: 258 pages
ISBN: 978-1-85149-792-8
Acknowlegement
Permission to reprint photos and recipe granted by ACC Editions, The Royal Touch,©Carolyn Robb, Photography©Simon Brown
Disclaimer
The Royal Touch cookbook was sent to me by the publisher for review.  As always, the opinions expressed are my own.