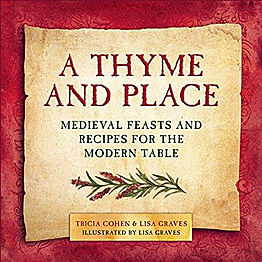 The A Thyme and Place: Medieval Feasts and Recipes for the Modern Table cookbook by Tricia Cohen and Lisa Graves, brings us back to the Medieval Ages traditional feasts and holidays where food was the centre of each celebration. The original recipes, suited to the different feasts, were made with ingredients that are difficult to find today. Tricia and Lisa modernised the recipes to which they share in this stunning cookbook.
A Thyme and Place contents
The Introduction explains how the recipes are organized, the Medieval daily diet, food preparation, etiquette, liqueurs and spices.
Basic Recipes lists how to make pasta, jam with bacon, savory pie crust, parsley oil and girdle crackers.
Medieval Holidays and Feasts
While reading through the A Thyme and Place cookbook, I was fascinated to learn the history of the Medieval feasts and holidays celebrated in that era.
Besides familiar holidays such as St. Valentine's Day, April Fool's Day, Shrove Tuesday, Easter, Halloween and Christmas, others such as Twelfth Night (January 5th or 6th), Plough Monday (Monday after January 6th), St. Swithin's Day (July 15th), were also celebrated. Pig Face Day (September 14),  which has quite an interesting history, is still celebrated in Avening, England.
A Thyme and Place recipes
The recipes in this cookbook are beautifully illustrated and adapted from Medieval cookbooks and manuscripts for modern day cooking.
The recipes are preceded by their history and date of celebration, and include fun facts and tidbits of information.  They're easy to follow with the ingredients listed on the left of the page directions on the right.
Sample recipes include: Fool's Paradise Onion Soup (April Fool's Day), Virile Chickpeas (St Valentine's Day), Fried Pork Balls with sage crème (Pig Face Day), Roasted Goose with honey glaze and figs (Michaelmas), I Do Scallops with Pea Puree (Medieval Wedding), and Short Rib Lasagne (Christmas).
Tested Recipes
Virile Chickpeas,  St Valentine's day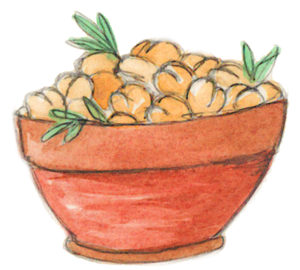 In the Middle Ages, chickpeas were consumed to improve people's sex lives, so were goat meat, sparrow brains and wine. Chickpeas are one of my favourite legumes. This recipe was easy and quick to make.  Chickpeas and spinach, served with cheddar and parsley, makes a delicious, hearty meal.  Virile Chickpeas is one dish  I will make this again, but add more chicken stock next time.
Pan Seared Scallops and Pea Purée, Medieval Wedding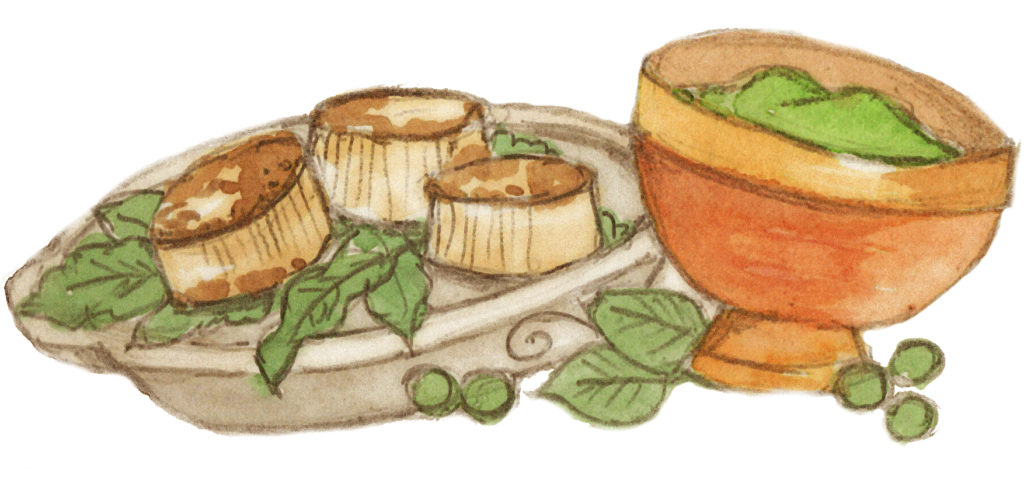 The Medieval wedding traditions were different than those of my Italian culture.  The bride wore blue instead of white as a sign of purity, and the nuptial Mass was held after the ceremony which was performed outside the church. One similar tradition is that an abundance of food was served during the celebration.
I was not a fan of scallops, but the Pan Seared Scallops and Pea Puree recipe converted me. I used frozen peas to make the puree and added Parmesan cheese (that's the cheese I had on hand) instead of Pecorino cheese. I cooked the scallops as directed with excellent results.  The savoury taste of the scallops combined with the creamy pea puree was very appetizing.
Pan Seared Scallops with Pea Puree Recipe
Pan Seared Scallops with Pea Puree
A delicate dish for delicate situations.
Author:
Tricia Cohen & Lisa Graves
Ingredients
1 tablespoon unsalted butter
1 clove of garlic, minced
2 fresh mint leaves, chopped
1 cup sweet peas, thawed if you are using frozen peas
½ cup chicken stock
2 tablespoons grated cheese (we used pecorino)
3 tablespoons mascarpone
Salt and pepper, to taste
6-8 large scallops
Unsalted butter and olive oil for searing
Instructions
Cooking the puree![b]
In a saucepan, heat 1 tablespoon of butter on medium heat, until melted. Add the garlic and mint. This will be incredibly aromatic. Once the garlic softens, not browns, add the peas and chicken stock.
When the peas warm and soften, add the cheese and stir. Using a hand mixture, or blender, puree the pea mixture until smooth.
Add the puree back onto the heat, medium low, and then add the mascarpone. Salt and pepper to taste.[b]
Cooking the scallops![b]
Pat the scallops dry, and remove any remaining muscles with your fingers. Generously sprinkle the scallops with salt and pepper. Swirl olive oil around the pan. The pan should be big enough to fit all your scallops comfortably.
Heat a pan on medium-to-medium high heat. Place the scallops on the hot pan. The secret to searing scallops is to leave them alone! Allowing 3-4 minutes for each side will brown to scallops nicely.
This is an optional technique that yields delicious results. Once you flip the scallops over to cook the other side, add a few pats of cold, unsalted butter. This gives the scallops a nice finish and golden color to serving side. You can also, when adding the butter, incorporate fresh herb or spice. Our favorite spice with scallops is ground coriander.
Place the scallops on a plate, buttered side up, with the pea puree. You can serve the scallops beside the puree or serve over. Your preference. We served the scallops on the puree, with a bit of mint sprinkled on top.
Bookshelf Worthy?
Whenever I review a cookbook, I always discover something new, be it a technique, ingredient or tradition. In A Thyme and Place, I learned about  the history of the Medieval feasts and their recipes.  I found the read quite captivating.  It's definitely staying on my bookshelf.
A Thyme and Place: Medieval Feasts and Recipes for the Modern Table
Authors:              Tricia Cohen & Lisa Graves
Publisher:           Skyhorse Publishing
Illustrations:      Lisa Graves
Cover Design:     Jane Sheppard
ISBN: 978-1-5107-0253-0
Where to Purchase
The  Thyme in Place cookbook  can be purchased online on Amazon
and The Book Depository which offers world-wide free shipping.
About the Authors
For information about the authors, please visit the Thyme Machine Cuisine website.
Acknowledgement
Excerpted from A Thyme in Place: Medieval Feasts and Recipes for the Modern Table Copyright 2016 © Tricia Cohen and Lisa Graves.  Used with permission from Skyhorse Publishing. All rights reserved.
Disclaimer
The A Thyme and Place cookbook was sent to me for review by Skyhorse Publishing.  As usual, the opinions are my own. This post contains an affiliate link.